As charcoal production industry has developed rapidly these years. There are many customers doubt that if it is still profitable to by briquetting press machine and invest in charcoal briquetting. The answer is absolutely yes! Since more and more people pay attention to the use of charcoal briquettes, we believe that the profit space is still very large.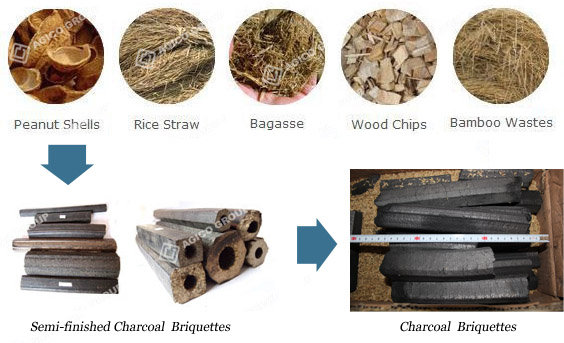 Charcoal Briquettes
Charcoal Briquetting Press Machine Has Its Advantages
First of all, the raw materials for charcoal briquetting are very cheap and easy to get. Even straw wastes can be put into charcoal production. Besides,
charcoal press machine
is energy-saving and efficient. The demand for charcoal is increasing day by day, and the application field of charcoal is also getting wide especially in metallurgy industry. Use charcoal for metallurgy, the produced cast iron is featured with fine and compact structure, no crack, less impurity. Charcoal metallurgy is ideal choice for high quality steel production. As charcoal is reductive, it is widely applied to reduction of ore in metallurgical industry. In non-ferrous metal production, charcoal is used as surface flux. When the non-ferrous metal is melting, the surface flux will make a protective layer on the surface, so that to separate the metal and gas, reducing the splash of molten metal and reduce the gas saturation.
Various examples show that the development of charcoal briquetting press machine has just begun. As long as charcoal is needed, charcoal briquetting machine is still a good way to start a business.