Make Pillow Shape Briquettes
(The pillow briquette machine can press charcoal/coal/mine powder into pillow shaped briquettes)
Coal Powder/Dust
Charcoal Powder/Dust
Mineral Powder
Moulds of Pillow Briquette Machine
Pillow Shaped Coal / Charcoal Briquettes
Pillow Moulds
Pillow Briquette Machine for Sale
(Double-roll type press)
Mini Coal / Charcoal Briquette Machine (GCXM-1)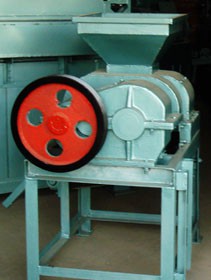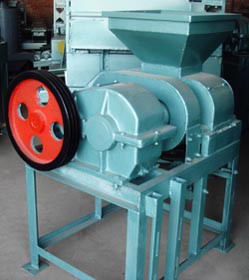 Model
capacity
Power(kw)
Speed of main shaft
Type of pressure
Material of roller
Form of structure
GCXM-1
(Mini)
1-2TPH
5.5kw
--
Mechanical
--
Two rollers single press
GCXM-4
4TPH
7.5-15
18r/min
Mechanical
65Mn
Four roller double press
GCXM-6
6TPH
11-18.5
15r/min
Mechanical
65Mn
Four roller double press
GCXM-8
8TPH
15-22
15r/min
Mechanical & Hydraulic
65Mn 9cr2Mn
Four roller double press
GCXM-10
10TPH
18.5-30
13r/min
Mechanical & Hydraulic
65Mn 9cr2Mn
Four roller double press
GCXM-15
15TPH
30-45
13r/min
Mechanical & Hydraulic
65Mn 9cr2Mn
Four roller double press
GCXM-20
20TPH
55-75
13r/min
Mechanical & Hydraulic
65Mn 9cr2Mn
Four roller double press
GCXM-30
30TPH
75-90
10r/min
Mechanical & Hydraulic
65Mn 9cr2Mn
Four roller double press
Choose the Pillow Shape Charcoal Briquettes for Barbeque
AGICO is one of the top charcoal briquette machine manufacturers in the international market.
Some fuel briquette users do not know much about the particular uses of different briquettes, so we would like to start with one example: BBQ is suitable at any season of the year. When the weather is cold, having a drink with some delicious roasted meat is a perfect match, and when it's getting warmer, you can drink some cold beverage instead of alcohol. You can also change the amount of meat and vegetables used in the BBQ according to your health condition and preferences.
Uses of Charcoal & Coal Briquettes
| | | | |
| --- | --- | --- | --- |
| | | | |
| Burning | Used as Industrial Fuel | Used for BBQ | Used for Cooking |
Regarding the fuels for the BBQ, there are more choices nowadays than before - a series of briquettes made from various materials (wood, charcoal, bamboo, etc.) are developed for BBQ uses, the pillow shape charcoal briquette is a new member of them which is well received by the BBQ fans, one thing you should keep that in mind that the briquette for BBQ is very different from the ones for heating uses - the fire has direct contact with the food, the additives and additional processes have to be taken to make the fuel burning as clean as possible, and the price of charcoal briquettes for barbeque is higher than other products.
Buy from AGICO GROUP and you will never regret it!
Interested in our pillow briquette machine or simply want to know more about making pillow shape charcoal / coal briquettes, contact us right now and you will get the professinal answer in one business day!