Making Coal / Charcoal Briquettes
(Coal Briquette Machine, Charcoal Power Briquette Maker)
Coal Powder/Dust
Charcoal Powder/Dust
Mineral Powder
The Profits of Using Charcoal Fines for Briquetting
Unlike common charcoal, fines cannot be burned directly in an ordinary way. However, if we make most of the fines for briquetting industry, the charcoal production would rise by 10 to 20%.
Coal/Charcoal Powder Briquette Maker for Sale
With a coal powder or charcoal powder briquette maker, fines can be turned into lumps of charcoal. Feel free to send us an email if you are interested in our briquette maker or simply want to know more about making charcoal/coal briquettes!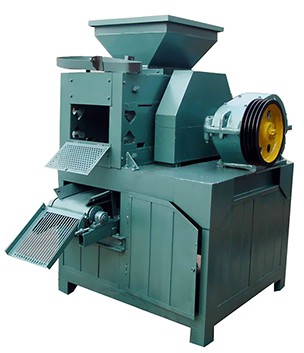 Model
GCXM-1
GCXM-4
GCXM-6
GCXM-8
GCXM-10
GCXM-15
GCXM-20
GCXM-30
Producing capacity
1-2T/H
4TPH
6TPH
8TPH
10TPH
15TPH
20TPH
30TPH
Width of roller
200mm
240mm
250mm
280mm
300mm
336mm
400mm
500mm
Diameter of roller
290mm
360mm
400mm
450mm
550mm
650mm
750mm
850mm
Power
5.5kw
7.5-15kw
11-18.5kw
15-22kw
18.5-30kw
30-45kw
55-75kw
75-90kw
Speed of main shaft
27r/min
18r/min
15r/min
13r/min
10r/min
Retarder
ZQ235
ZQ350 ZQ400
ZQ400 ZQ500
ZQ500
ZQ500 ZQ650
ZQ650 ZQ750
ZQ750
ZQ850
Type of pressure
Mechanical
Mechanical & Hydraulic
Material of roller
65Mn
65Mn 9cr2Mn
Form of structure
Two roller single press
Four roller double press
Bearing of main shaft
319*4
2097724*4
2097732*4
2097734*4
Main shaft
45# Steel
D: 95mm 45#steel
D:110mm 45#steel
D:120mm 45# steel
D:135mm forging steel
D:165mm forging steel
D:250mm forging steel
Shape and size
According to your request

Buy from AGICO GROUP and you will never regret it!
Feel free to contact us if you are interested in our Coal Briquette Machine or Charcoal Power Briquette Maker or simply want to know more about making coal briquettes!
Properties of Charcoal Fine/Powder
Compared with lump charcoal, the purity of charcoal fines is much lower. Except charcoal, the fine material also contains clay, the bark of the fuelwood, mineral sand and fragments. The charcoal fines produced from normal wood has a lower ash content than the ones produced from leaves, twigs and bark, so wood charcoal is better. Although the fine material may still contain 50% or more charcoal, it is difficult to find it another use. However, in most cases, a mesh screen (2 to 4 mm screen) can separate the materials with undesired high ash undesired large size from the fines, and fragments of good charcoal will be mostly retained on the screen. These charcoal fragments can be ideal materials for charcoal/coal briquette machines after hammer-milling.
---
Maybe you are also interested in knowing:
(Prospect of Coal Powder/Charcoal Briquette Machinery in 2013)
The latest news from casting industry net reported that with the relief of labor shortage for the large quantities of casting factories, charcoal briquette factories could not meet the increased fuel demand from the casting factories, with the features like small scale, backward technology, high investment, high pollution, high power consumption, low efficiency and low profit, the charcoal briquette factories are impossible to supply enough briquettes product for the casting industry, and this has definitely limited the development of the casting industry, the only possible solution is update the coal powder/charcoal briquette machines to the new generation, the advanced charcoal briquette machines have higher efficiency and lower power consumption, they are the main power for the competition in the future, replace the outdated equipments before it's too late, as one word says: the world is a village now, the situation for the fuel briquette plants in other countries are more or less the same, AGICO is a leading coal powder/charcoal briquette machinery manufacturer in China, if you have any questions on our product,
send us an email now!