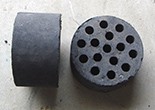 Regardless of where you are, you can place an order for the beehive coal briquette press to meet your needs. Accuracy and precision are the two major qualities you need to be on the lookout for when choosing the right kind of coal briquette press. A good press is one which can work with intense pressures and heating temperatures to produce briquettes without getting damaged, or destroying the products it is burning up. The raw materials placed inside the press, must be placed under highly pressurized surroundings in order to convert them into briquettes, while maintaining their structure.

Beehive Coal Briquette Press for Sale
Model
capacity Piece/min
Final briquette size
Weight
KG
Power
GC 14
50
Round shape: below Ф140
Square shape: below100×100
1950
7.5KW4pole
GC 16
50
Round shape: below Ф160
Square shape: below 100×100
2250
7.5KW 4pole
GC 180
50
Round shape: below Ф180
Square shape: below 150×150
2500
7.5KW 4pole
GC 220
24
Round shape: below Ф220
Square shape: below 100×100
3500
11KW 4pole
There are two types of honeycomb briquette machine, one is closed type design and the other is semi-closed type design.
Close type: The motor is included inside the main machine;
Semi-Close type: The motor is separate and outside the main machine.


Feel free to send us an email if you want to know more about AGICO Beehive Coal Briquette Press!