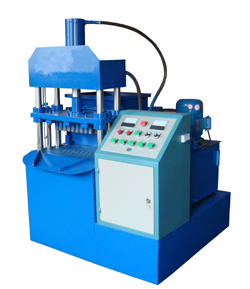 Tablet Briquette Charcoal Machine
Model
GC-YPJ
Capacity
400kg per hour
28pcs per press for Round
Compression Pressure
12 presses per minute
Biruquette Size
50mm (diameter) x 20mm (thickness)
Machine Overall Size
L 7m*W 1m * H 1.8m
Weight
1400KG
Introduction:
This is a kind of briquette machine common on the market. This tablet briquette charcoal machine is used to briquette charcoal, coal powder into tablets. The briquettes produced by this machine is called shisha briquettes, so sometimes the machine is also named shisha charcoal machine. The shapes of the finished charcoal can be ( Φ15-Φ50mm ) concavity, convexity, pyramid, cylinder, triangular form, rhomboid, ringlike, cuboid, etc.
| | |
| --- | --- |
| | |
| Tablet Shisha Charcoal Briquettes | Square Shisha Charcoal |
Raw material:
This series of tablet briquette charcoal machine are suitable for all kinds of wet and dry granular or powder materials, such as coking coal, coal powder, carbon powder, crystal carbon, etc.

Shisha Charcoal Production Flow:
Charcoal → Charcoal Crusher → Conveyor → Mixer → Conveyor → Charcoal Briquettxingbangress → Final Product (Shisha Charcoal).