It is June now, and the favorite food for summer time is BBQ, although BBQ is considered to be not very healthy way of cooking food, once you tried the food, the unique flavor of the meat and all kinds of vegetables will stick to your mind and never leave after. For either the BBQ restaurants and the DIY outfield BBQs of individuals, choose the best fuel can make your cooking much better and easier.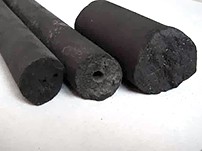 Charcoal briquette extruder machine
manufactured by AGICO is suitable to produce the briquette fuel for cooking purposes, especially for BBQ. Compared with the charcoal sticks that made in the old way, the advantage of charcoal briquette is that it is much cheaper and it can provide just the same kind of grilling function, without any food safety issues caused.
Do you want to be a BBQ fuel supplier? The Charcoal briquette extruder machine is all you need, with the cheap raw biomass materials, you will be able to produce the best charcoal product in the market.
Special note: Add a little lighter oil onto the charcoal briquette will make starting a fire much easier, and wait until it all burns out before the cooking start.